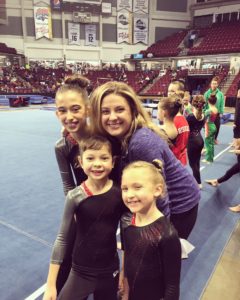 Tumble Time Competitive Xcel Team
What is Xcel?
The XCEL (previously called Prep-op in most parts of the country) is a program run by USAG. It's primary difference with compulsory is that there are no set routines. It is run like optionals, in which the coaches can choose which skills (within a set of rules) will be used in the routines. So instead of a set level 5 beam routine, where everyone competes the same, a prep-silver has the choice as to whether to compete a cartwheel, back walk over, backward roll, etc. The purpose of the Xcel Program is to present recreational gymnasts the opportunity to participate in competition without the intense time commitment. There are five levels in the USAG Xcel Program; Bronze, Silver, Gold, Platinum and Diamond. The breakdown is: Bronze L3-4, Silver L4-5, Gold L5-6, Platinum L6-7, most don't compete diamond at this point but that would be 7+. The Xcel program gives the gymnast the ability and flexibility to take part in creating their own routine and add their own personal touches and style. The gymnast can play up their strong events and only compete in the events they choose.
Tumble Time is a place of learning, both physically and mentally, for now and for a life time. We strive to develop happy, healthy and responsible children, who have a sense of innate worth. We believe that a competitive team promotes all of these goals at an even greater level. We take seriously the opportunity that we have as coaches to help mold our gymnasts into confident, poised young women and will do our best to be positive role models for them. Thank you for trusting us with your children and for allowing them this team experience that they will remember forever.